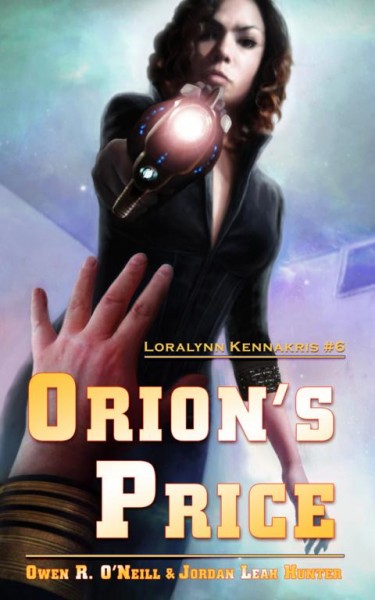 This omnibus edition combines the full, unabridged text from the previously published editions of The Bonds of Orion and Orion's Price into one book. It replaces both those out-of-print editions.
Available on Amazon: https://www.amazon.com/dp/B07H7W2CFC
---
The Bonds of Orion
The war is going well: recent victories have Halith in retreat. Now recuperated and promoted, Lieutenant Commander Loralynn Kennakris is on leave, giving her a chance to do a few things she doesn't have much experience with: resting, relaxing . . . and falling in love.
In all the years since they briefly met, Kris has never been able to forget Mariwen Rathor. And Mariwen, now recovered after years of intense rehabilitation, has never forgotten her. Meeting again after so long apart, Kris is stunned to find Mariwen offering her something she's never really had: a home.
But life is never that simple. Ordered to take part in a training exercise with the Karelian military, Kris instead finds herself sent deep into Halith space with Rafe Huron to rescue one of the League's greatest war heroes, who has been missing for years and presumed dead. When Kris left for Karelia, she told Mariwen it was "practically a vacation". Now, caught between bloody-minded insurgents, invading Halith forces, and a volatile hero who has her own ideas about being rescued, this 'vacation' is shaping up to be Kris' last.
Orion's Price
Mariwen Rathor was once a leading interstellar celebrity, revered from one end of charted space to the other. The victim of a terrorist plot, she's been living as a recluse after undergoing years of intense rehabilitation that suppressed most of her memories. But they couldn't suppress her memories of Kris and thanks to their unexpected reunion, Mariwen has finally found herself again.
But when Kris went deep into Halith space with Rafe Huron to rescue a hero long thought to be dead, they stayed behind to delay a major Halith attack, allowing their people to escape at the cost of their own freedom.
Now, to save the woman she loves, Mariwen must do the impossible: take on the Halith Empire. Alone.
And win.
Or die trying.
Or something much worse.